Alice's place | City living in Ghent
Alice's enormous apartment right in the historic heart of Ghent is a complete reno. She let me photograph her wonderful apartment, for everyone to see and be a tiny bit jealous.
Location:
Historic centre of Ghent
Years lived in:
12 years; owned
Alice's enormous apartment right in the historic heart of Ghent is a complete reno. Turning the orientation of 
the rooms towards the huge windows and letting in as much light as possible, appeared to be the best deci-
sion ever. The high ceilings and white walls make the rooms feel spacious and serene, while three spot colors 
are used to beautifully represent Alice's eccentric taste.
All the time spend to gather the right items and putting them into place meticulously makes this apartment 
feel like a home well thought through. It is perfectly acceptable to have kitsch in the house if you keep a low 
profile on mandatory items like sofa's and closets. Having floors and big furniture in desaturated colors bal-
ances out the rooms. Having one dark wall that goes up the second floor only increases the sense of height 
and space. Upstairs the original doors and big windows blend nicely with Alice's urge to collect vintage and 
second hand stuff. 
The apotheoses off it all is either the roof terrace that gives out to the magnificent view over the city and 
bathes in sunlight, or the carefully decorated bathroom full of action figures and religious memorabilia, hard 
to say.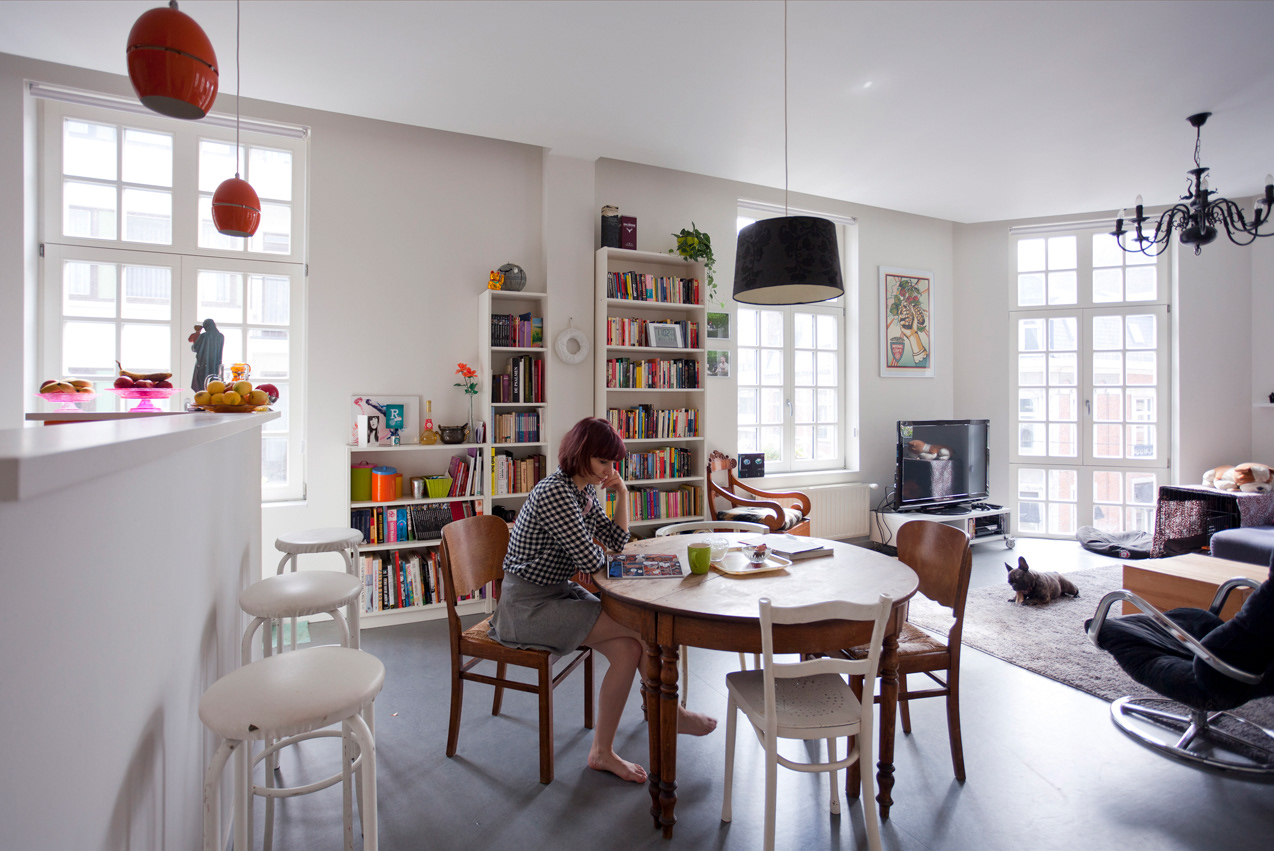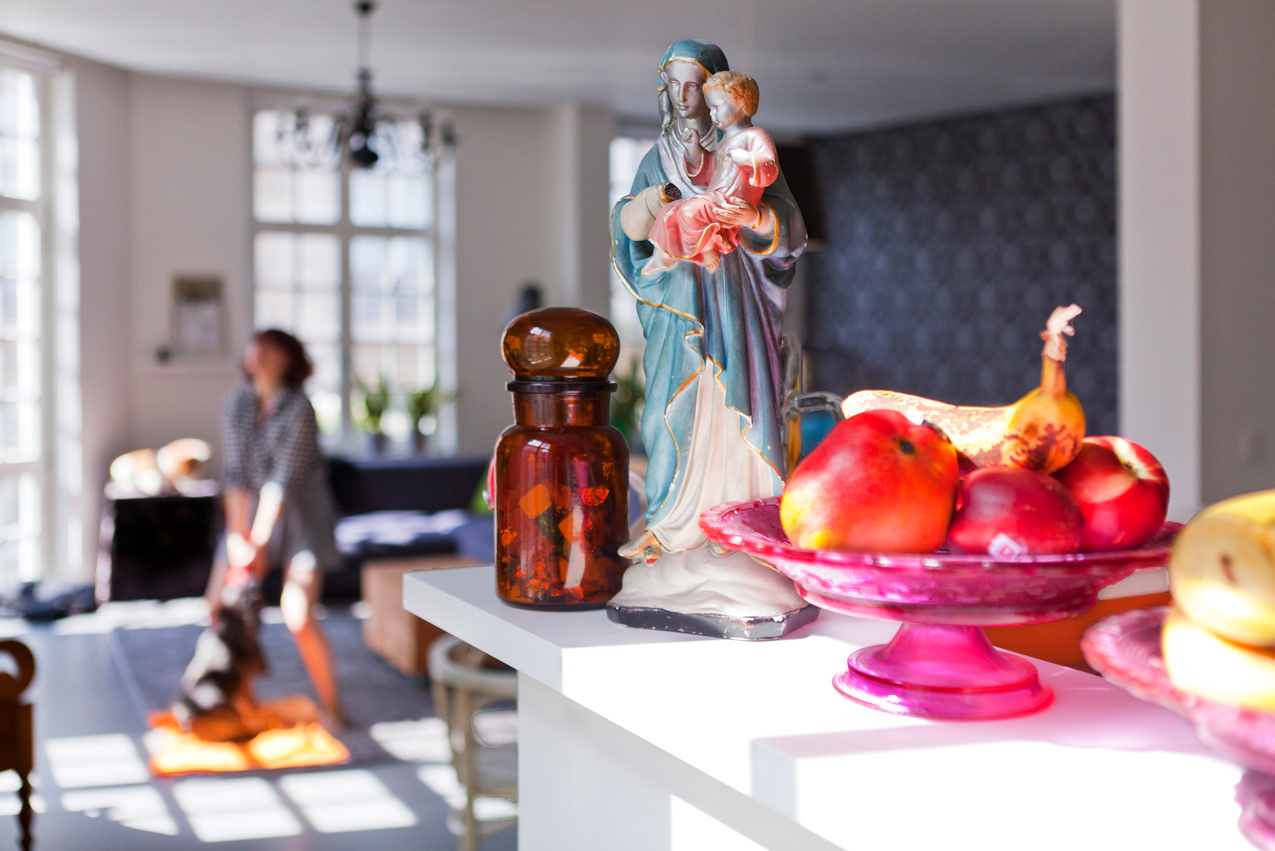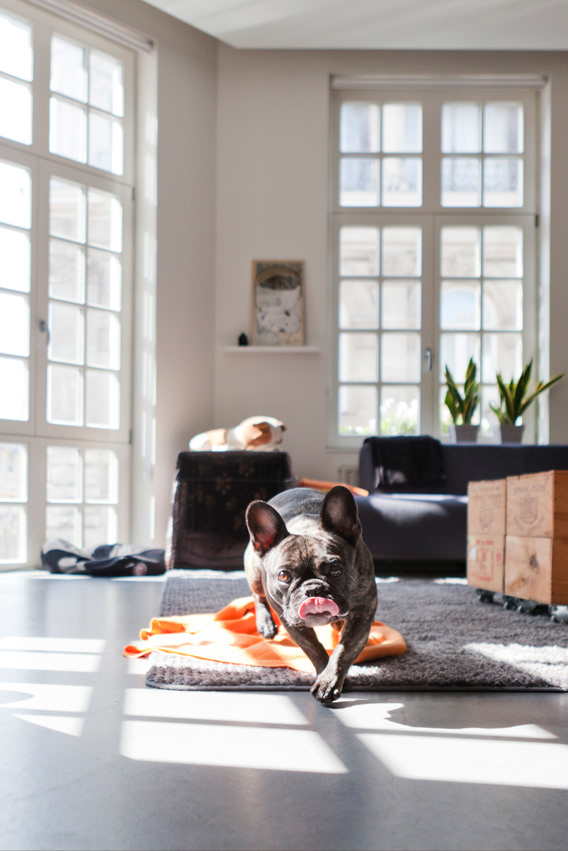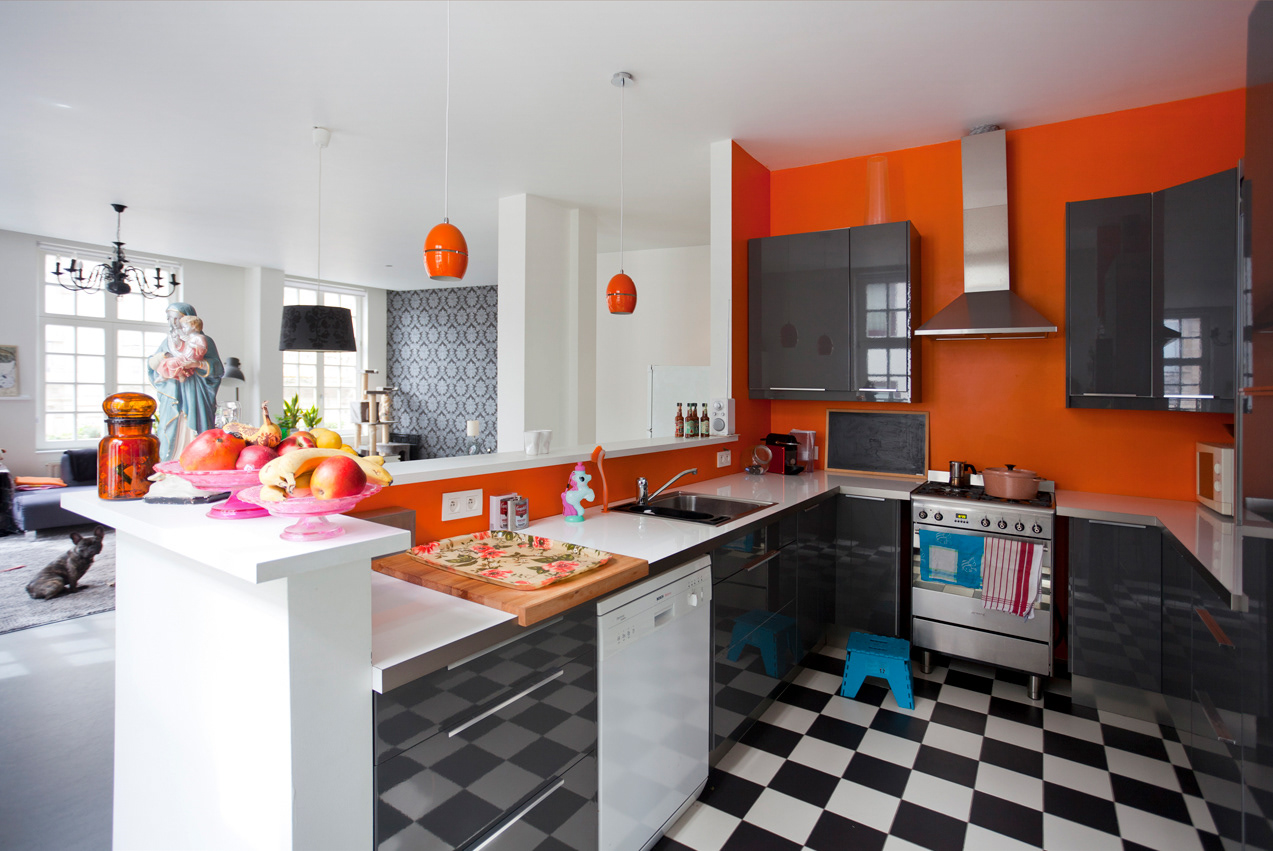 My style: 
Something in between minimalism and hoarding.
The movie Romeo+Juliet inspires me in so many ways. The setting, world of opposites, amount of kitsch and the magnification of surreal aspects mixed with this ever-so-classic love story. Opposite to that I also get inspired by Japanese Minimalism.
Favorite Element:
Since I had a lot of freedom to divide up the space I put a wall in the middle of my bedroom. That way I could 
have my own dresser and still keep the spaciousness of my bedroom. I also love the color and complicated 
vintage pattern of my wallpaper.
Biggest Challenge:
Finding a way to put up curtains in the bedroom that block the light out completely. Because of the rounded 
windows and slanting walls we had to opt for floor to ceiling curtains. If makes me feel like I'm on a camping 
trip when I go to bed but it's so cosy!
What Friends Say:
My friends love the spaciousness of the apartment. They say it's hard not to be jealous. Apartments like this 
in the centre are very hard to come by in Ghent. We just made the right desicion to buy it at the right time. 
They're not entirely sure about my decorating skills though. Sometimes I find the most horrid things looking 
great.
Biggest Embarrassment:
DIY Projects. Somewhere along the way I lose interest and never finish any of them. 
Proudest DIY:
One thing I did finish are the 'hanging gardens'. They're not as abundant as the ones in Paris - where people 
put up a whole garden on just a tiny windowsill - but still cheery. Together with the roof terrace they're my 
spot of greenery.
Biggest Indulgence:
It's totally abundant, it's so strange to have it in an apartment, colorful led lights hidden in the ceiling are the 
best! They change color and you can set them anyway you like, even in strobe-mode. When it's dark outside 
you can see it from the end of the street!
Best advice:
Don't thrift on painting budget. When the job is done well it just adds to the interior. Take your time or hire a 
painter.
Dream Sources:
I can spend days on end hunting online for second hand or vintage furniture. Flea markets are great to go 
treasure hunting but without a car you're unprepared for that one piece of giant furniture you'll fall in love 
with. Ghent is a great city for anything that's vintage. There's so many shops here like 'Het Archief' 'Het Antiek 
Depot', 'Het tijdreisbureau' and 'Marchan10'.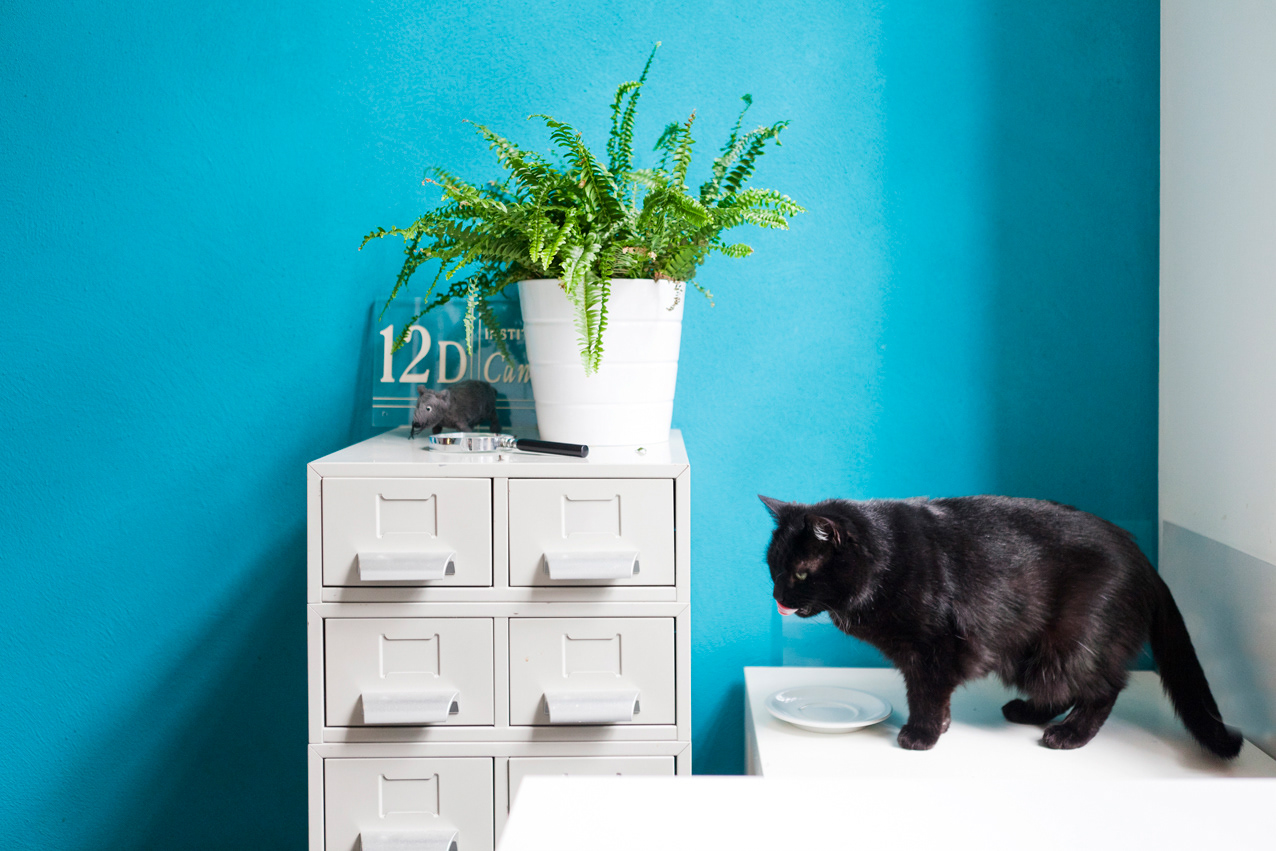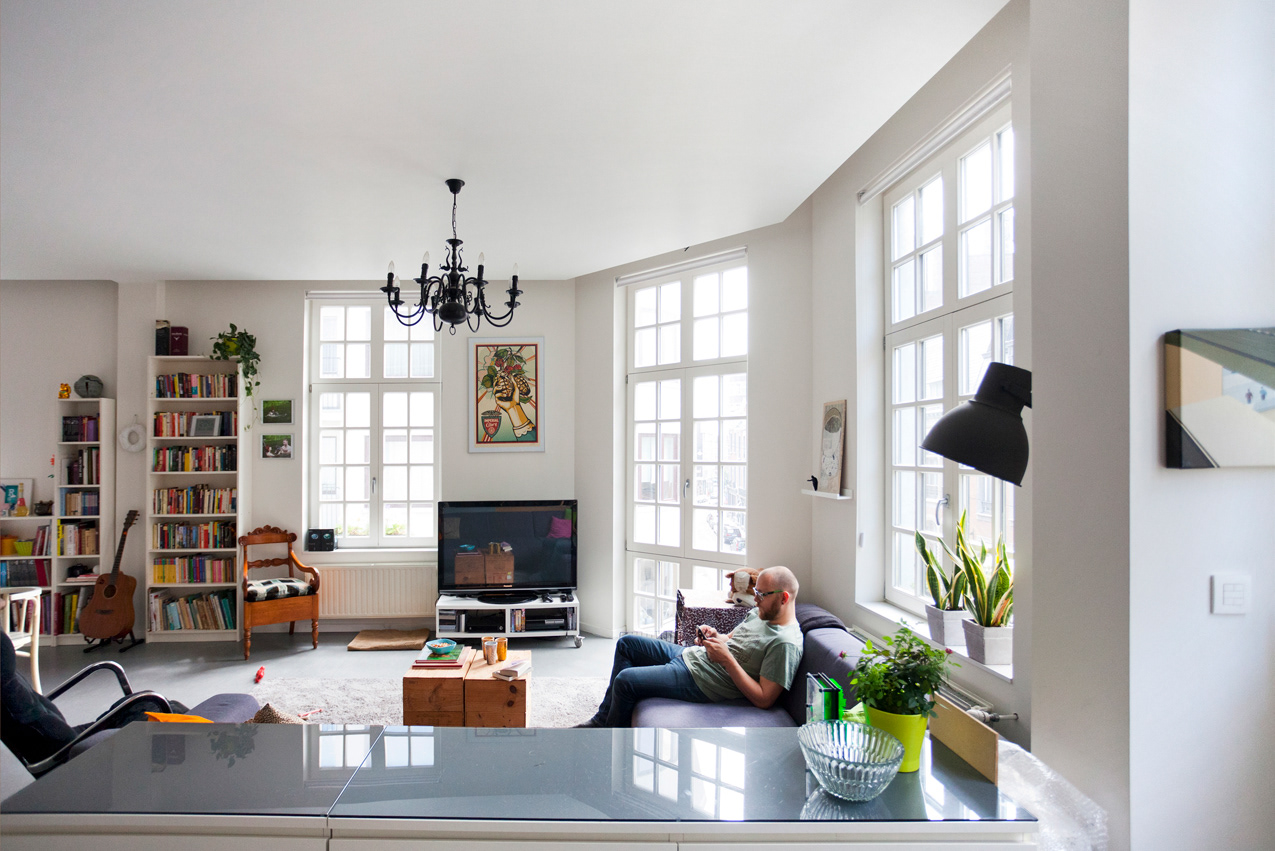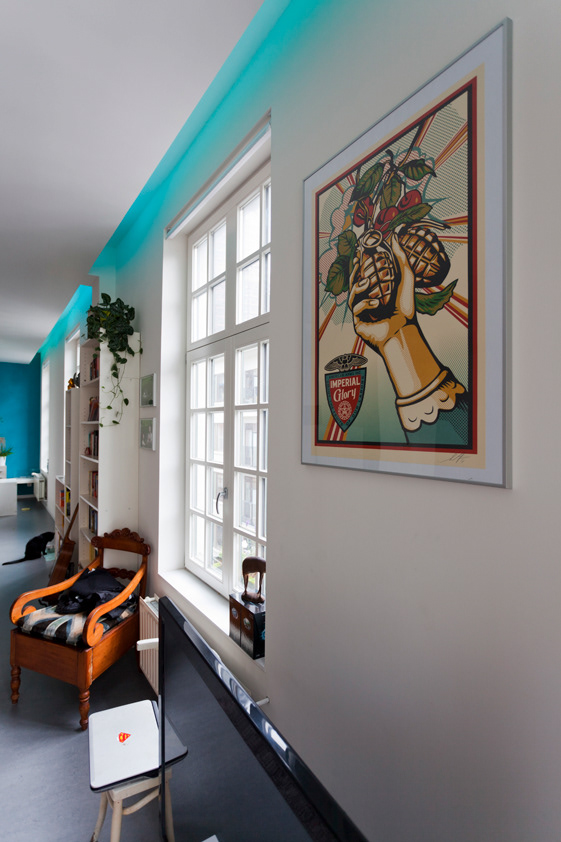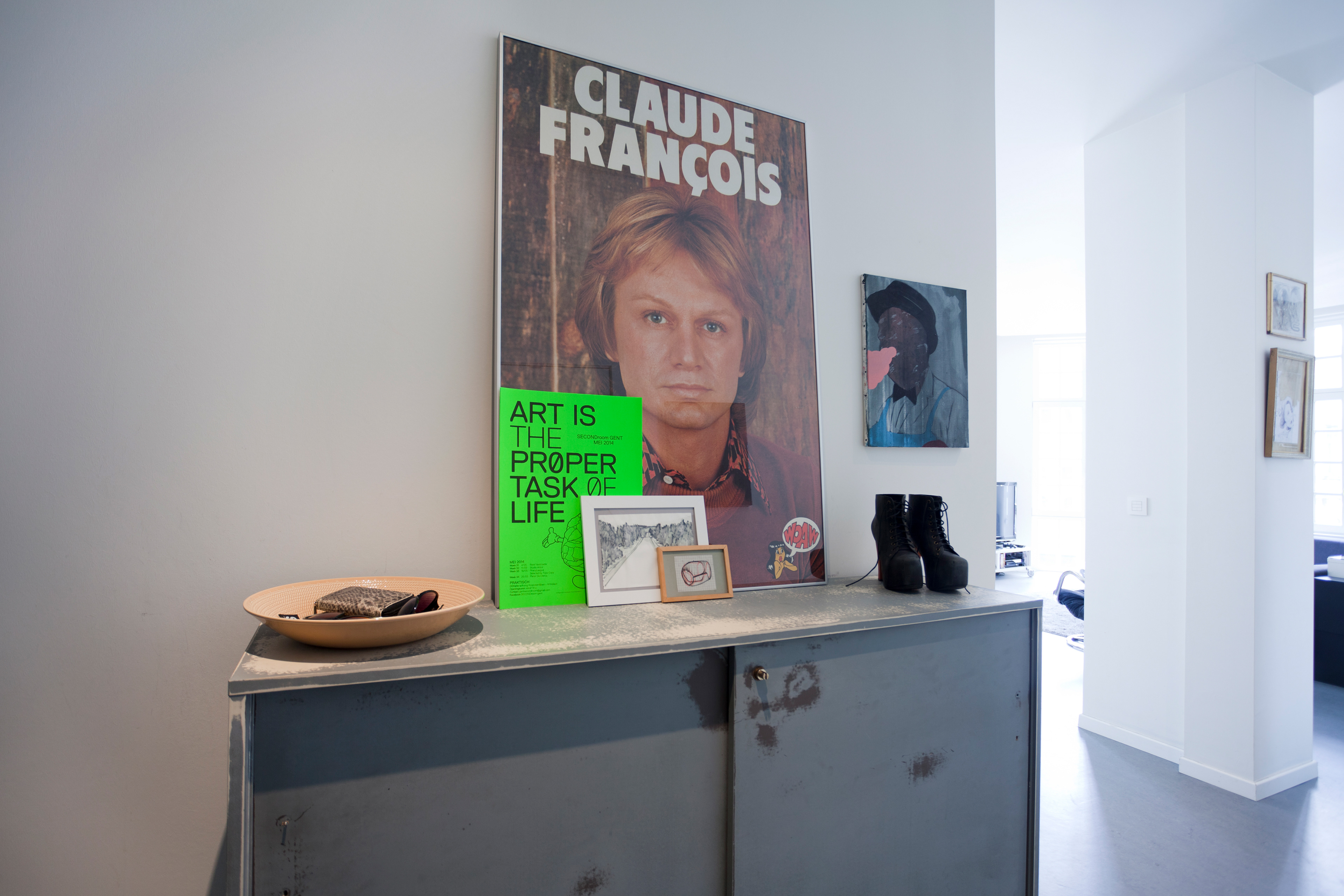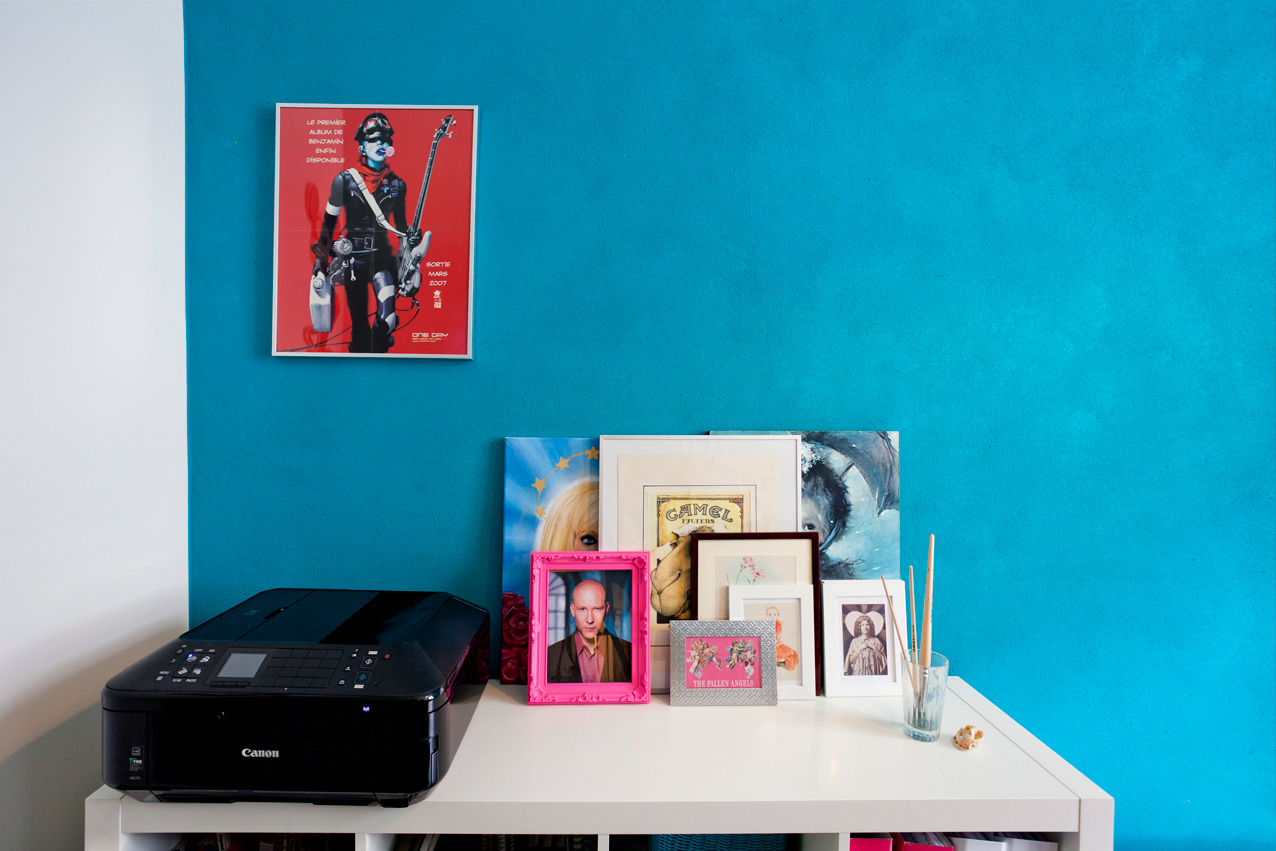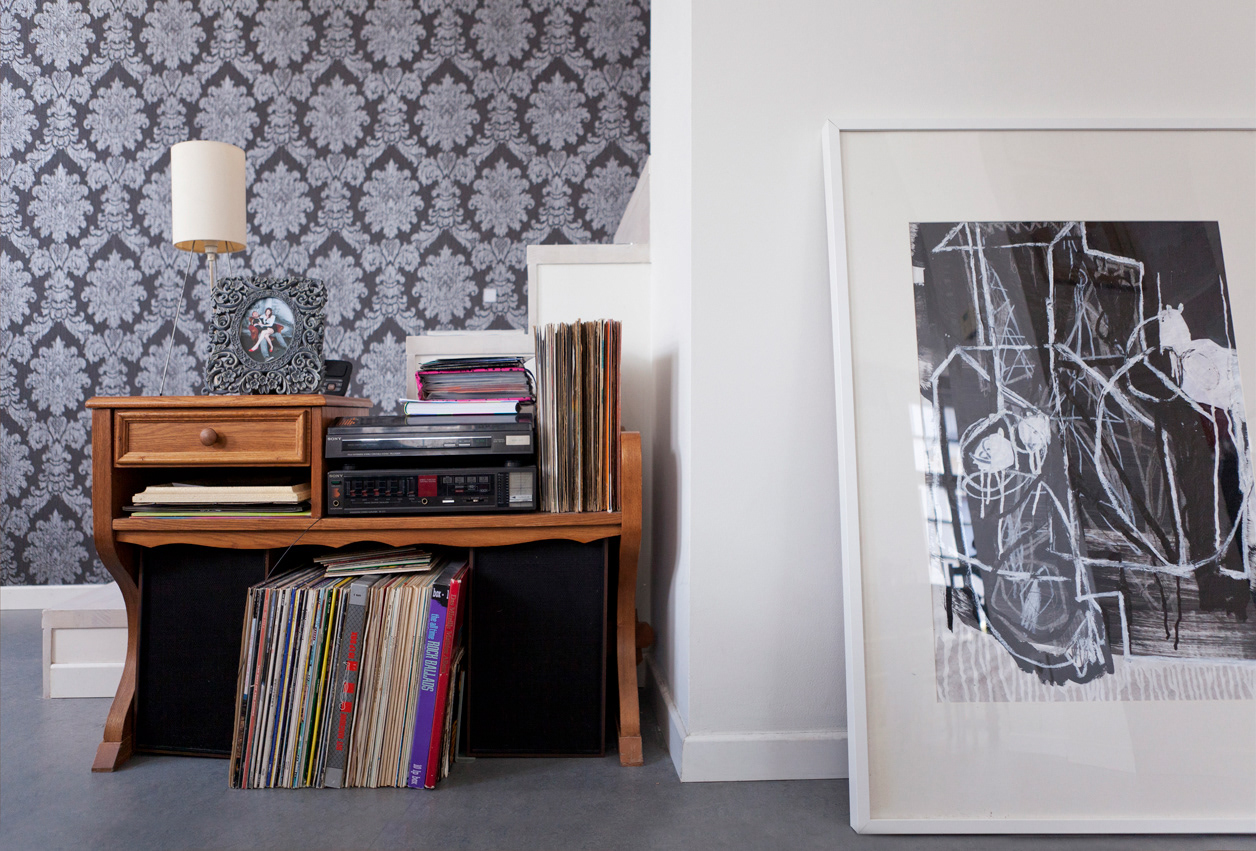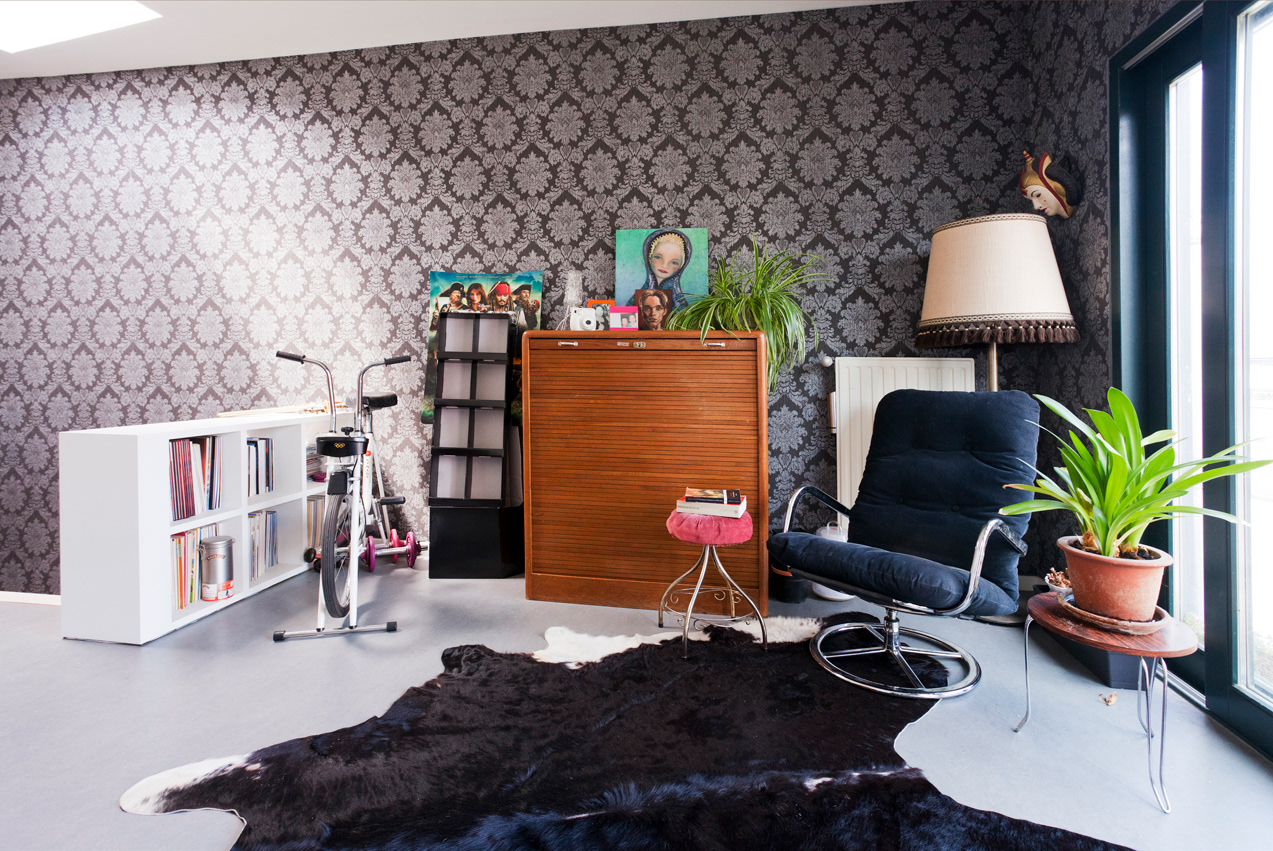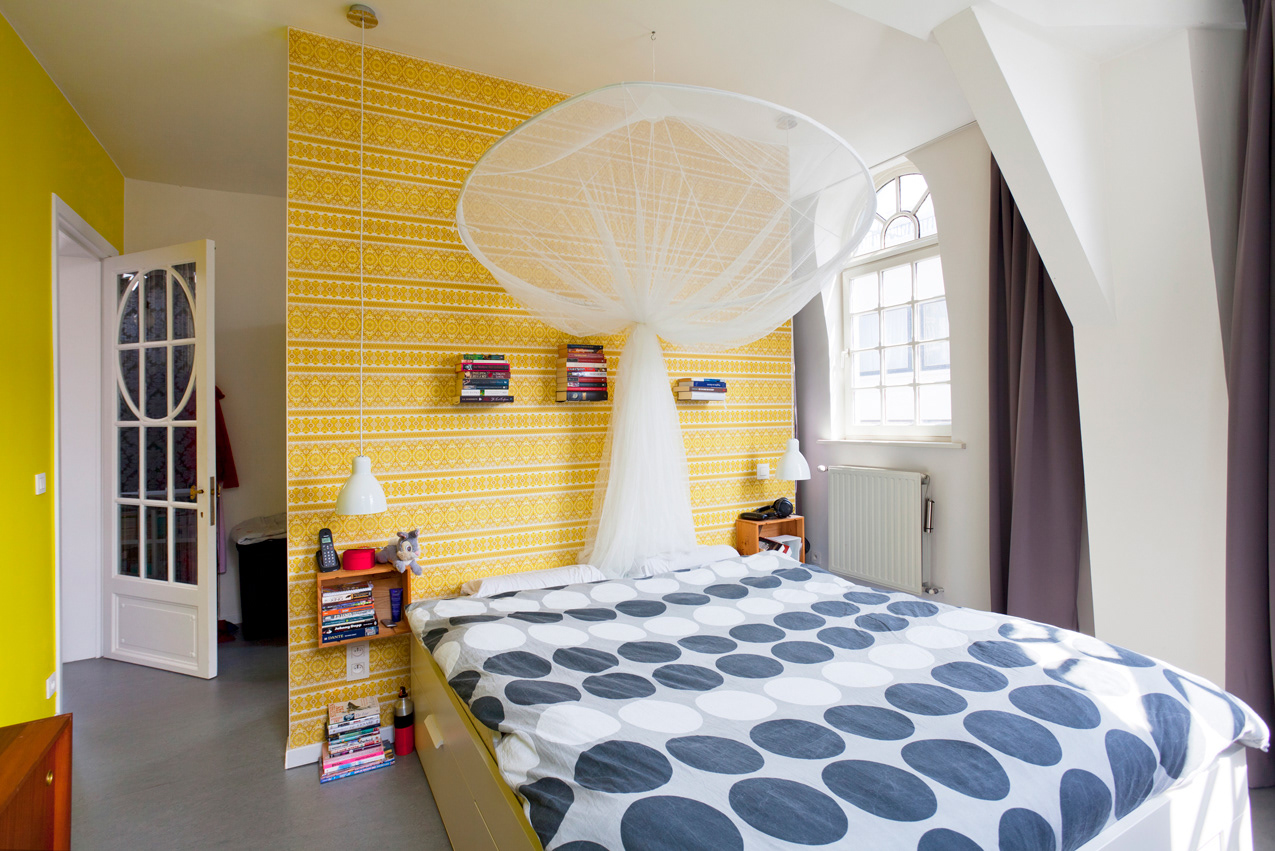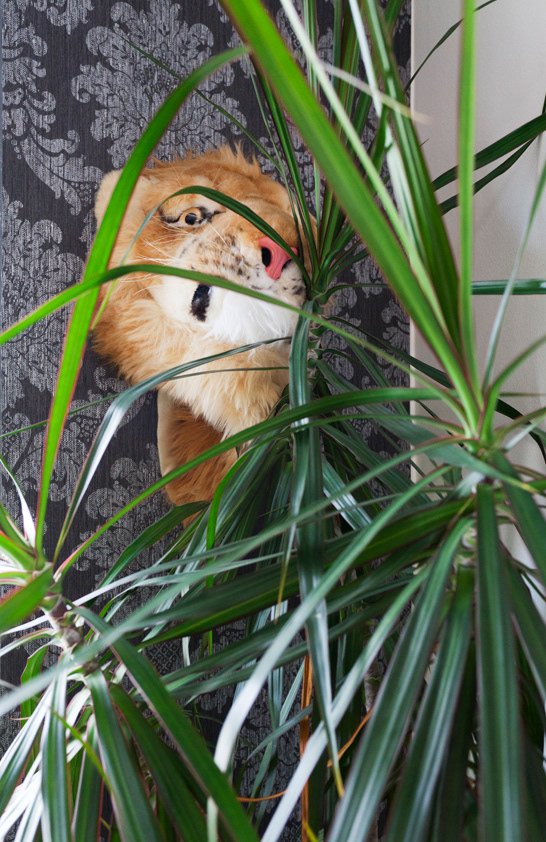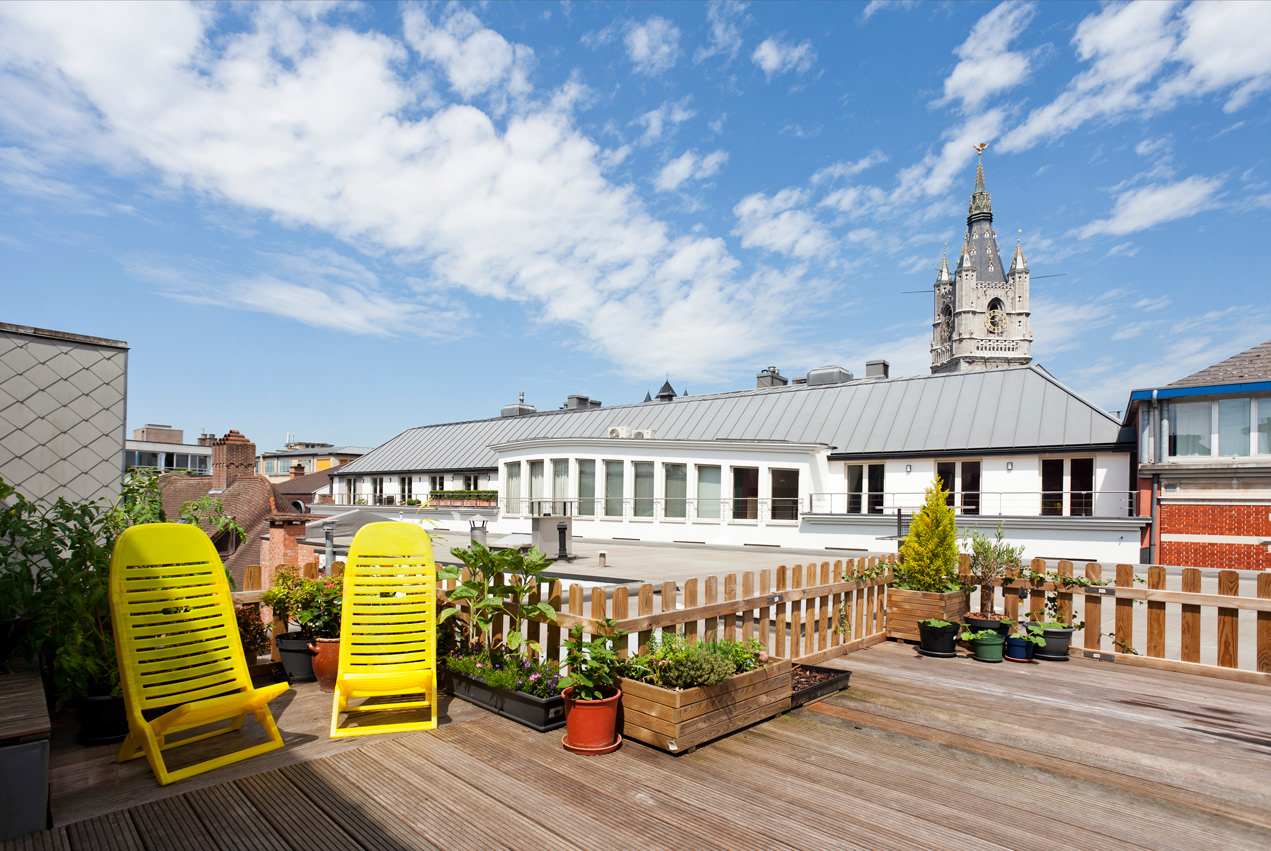 Kitchen
- Brown pharmacist jar belonged to my grandmother
- Mother Mary statue: second hand
- Cabinets: Ikea
- Stove: Smeg
- Wallpaper: Priem 
- Orange lamps: Weba
- Bar stools: gift from a theatre play
Living room
- Poster by Shepard Fairey
- Art next to Darth Vader by 
- Chandelier: gift from a theatre play and spray-painted
- Artwork in the corner by Kobe De Peuter
- Salon table: DIY
- Sofa: Weba
- Bookshelves: Ikea
- Black chair (same one as upstairs): Ikea
- Dining table: vintage
- Wooden chairs: vintage
- Antique wooden chair belonged to my great-grandmother (used to be a peeing pot)
- Dresser: got this from a colleague
Upstairs hallway
- Copper ashtray: Designmuseum Gent (bought it after the exhibition 'Between art and Kitch')
- Bookshelves: handmade
- Home-trainer: belonged to my great-uncle 
- Wooden cabinet with rolling shutter: Kapaza webshop
- Pink stool: vintage
- Wooden cabinet: belonged to my mother
- Art by Nancy Vanwambeke
- Lamp: gift
Bedroom
- Floating bookshelves: iBood
- Wallpaper: Priem (put up horizontally)
- Bedside tables: DIY
- Bunny Rabbit: gift from my boyfriend from Disneyland Paris
Downstairs hallway
- Grey cabinet: found in the apartments basement
- Poster Claude François: gift from my boyfriend
- Shoes: Lita
- Art by Manor Grünewald, Lee Ronaldo and Olivier Goethals